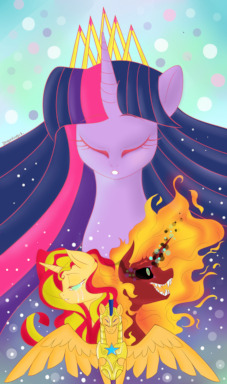 Source
Twilight is troubled by her new title and is constantly driving herself to sleep deprivation every night since her coronation. Princess Celestia is worried about her, so she sends a personal guard for her. Flash Sentry.
Cute moments, arguments, funny situations and romance are now in the life of the new princess. Until she is called to Canterlot because of a new threat to Equestria.
Oni Fire, a night pony devoted to his princess of the night. Twilight, Flash and White Fur will discover the key to defeat their enemies.
Chapters (14)