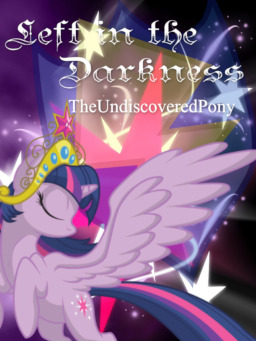 Leaving Twilight was the hardest thing I had to do but I knew that if I told her about my true self, I would destroy her life. I couldn't do that to her, especially when she's a princess, one that cannot bare what I have. I'm Flash Sentry and I am cursed.
Ever since I was a foal, I have kept the secret of my curse hidden from other ponies until now. My curse has destroyed my life, made me leave the filly I love and sent me to the only place that I could live without hurting others, in the darkness. This is my life and my struggles through it.
---
Since Flash left me, I felt hollow and empty. Nothing makes me feel better, not even the overly active, laughing maniac, Pinkie Pie. I do not know where he went or why but I have been left in the darkness.
I love him with all my heart and I am going to track him down. He needs me and I need him even if he doesn't love me. I won't let ANYTHING stand in my way to get to Flash Sentry.
---
Chapters (9)