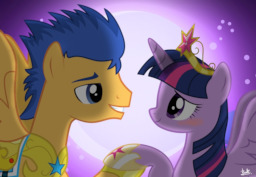 Flash Hoof, a young colt from the slums of Canterlot, trained as an adept thief from childhood by his older brother, has been forced from his home and made to create a new identity for himself.
Now, with his new identity of Flash Sentry, a recent recruit into the royal guards, he must lay low, carefully up keeping this life he has adopted, and avoiding the slightest break in his cover story.
But life has a strange way of throwing distractions into the mix.
This one happens to be named Twilight Sparkle
Disclaimer: This is a restoration of the original story written by yours truly. It may bear striking resemblance to the story of the same name by TheProfessor86, but that was a spinoff of my original work made as a continuation. Also, rated teen for suggestive themes.
Chapters (3)