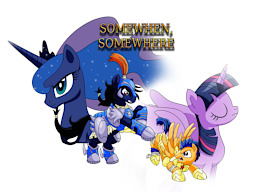 Source
The refusal of princess Twilight Sparkle to marry a noble of Luna and Celestia's choosing, and running with Flash Sentry instead, leads to the Elements of Harmony siding against the Goddesses, and the people of Canterlot choosing sides.
Now, a wounded and weakened Flash Sentry must reach Canterlot, hoping to reunite with Twilight Sparkle, who was taken by Princess Luna. In the way there, he and the Elements must fight Twilight's suitors, three Guard captains of noble blood.
Note for FlashLight haters: You'll get to read about Flash Sentry being beaten mercilessly for most of the story, so you can enjoy it too.
Art by the great Me. I can draw for you, if you ask nicely.
Chapters (6)