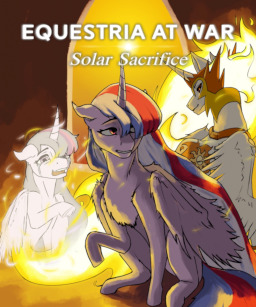 The following story takes place in the Equestria at War universe.
---
For some, the memory of the Great War against the Changelings was just that; a distant memory. But nopony can deny that, despite a victory, the repurcussions that followed have resulted in a dark time in the worlds history. God-Empress Daybreaker now rules across the Equestrian continent with an iron hoof, and has ruled uncontested for over two decades.
Even her protégé, Sunrise Sparkle, is starting to doubt her superiors' decisions. But given that nopony ever questions the God-Empress and lives to tell the tale, she simply kept her thoughts to herself. That is until a certain thought to be dead Princess of the Night visits her in a dream...
---
Cover art by Neither
Full size here
Chapters (7)