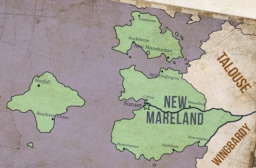 This story is a sequel to Set Sun, Broken Heart
---
Celestia and Flurry Heart have arrived in New Mareland, safe for now from the Lunar Empire. However, the distance from Nightmare Moon does not mean there are no problems to face for the two of them.
With a resurgent Karthinian Pact under king Garibald Talonuel III to the east, an Aquileian Republic reborn in the Second Revolution to the north and only the Celestial Sea between New Mareland and the Lunar Empire, Celestia must play a dangerous game of politics like she hasn't had to do in a long time, all the while taking care of Flurry Heart.
New Mareland itself is in a turbulent state that could easily escalate should things go from bad to worse. For now, the country is united against the Lunar Empire, but that can change rapidly. This too Celestia will need to keep an eye on, for her own safety and that of her ponies.
The coming years will be decisive for all the world, from Soryth to Hornavik and from the far northern shores of Pingland to the warm mountains of Hippogriffia, Through the actions of few the fates of many will be set in stone, or forever changed.
Important: this takes place in the Equestria At War universe. Equestria At War is a mod for the grand strategy game Hearts of Iron IV, be sure to check out their Discord and Reddit if you're not familiar with it. They also have a group on this site: https://www.fimfiction.net/group/212917/equestria-at-war
Rated Teen for sadness and the consequences of war, including trauma.
Cover art cropped from this: https://derpibooru.org/images/2361950?q=artist%3Amrscroup - I also removed the text remaining in the cropped part.
Featured on 18-11-2021. Thanks a lot for that

Chapters (4)