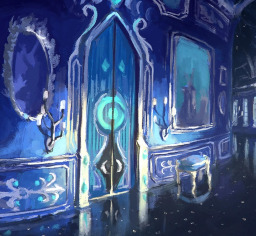 Source
Mighty lords chart the course of their people, for better or worse, through good times and bad. Their decisions have ramifications that echo across continents and generations. It is in the light of those decisions that the stories of heroes are ultimately defined, whatever side of the lord's reign they may fall upon.
Books are written about those decisions and their consequences critiqued long after most of those lords are gone to dust. A few even consider the personal cost of those heavy choices.
Rose Meadow was the sort who would be all but forgotten by the relentless march of history, save perhaps as set decoration. She was a guard, a professional whose main job was to stand outside an office door and make sure documents weren't stolen and the occupant wasn't unduly interrupted. That said occupant happened to be a head of state didn't matter much, except perhaps so far as to give her a vague sense of pride in her work.
Yet for all their unimportance on the grand stage of history, a guard overhears much, especially when the office door isn't closed properly...
---
This is a short story set in the world of the acclaimed Hearts of Iron 4 mod, Equestria at War. It is the first entry in the Quenta Roccolië and has been reviewed by Clarke Otterton.
Rated teen for discussion of war and death.
Written for the Fourth Annual Equestria at War Writing Contest with the prompt "A normal being's point of view and life amidst global events."
Thanks to Clear Skies-Roan for betaing.
Cover image is a crop of 'Palace Hallway' by plainoasis
Chapters (1)