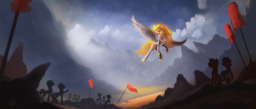 It has been many years since the war started...
Chrysalis and her armies rolled over our defenses, overwhelming our forces with sheer numbers. We fought a fighting retreat, always on the run from the swarm. We thought it would be over, that this would be the end of Equestria, and the end of Harmony...
But it was not so. We gathered our strength and held our ground, at last. Desperately our soldiers fought on and held the swarm off. Ponies took up arms to bolster our ranks or grabbed a tool to aid the war industry.
And now, after all these years, we remain in a stalemate. The Changelings adopted their own variant of total warfare. They launch raids on defensive positions at night, send bomber squadrons to destroy civilian centers all across Equestria and sink civilian cruisers out on the sea.
The war drags on, and my ponies grow tired of grieving the loss of their homes and loved ones. It is time for Equestria to commit to this war and leave behind our outdated principles of pacifism and harmony.
This war has brought upon us a new age. And with it, a new Equestria must rise!
This story takes place in the 'Equestria at War' universe. Further knowledge of this universe is not required, but it's good to know. Link to the official EaW group can be found here.
Chapters (5)