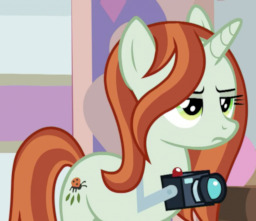 Revenge is such an easy concept on paper, yet takes a great deal of effort, intellect and dilligence to achieve in reality. Especially so when your rivals and opponents are the Heroes of Equestria themselves.
But no matter. Everypony has their weaknesses, and everypony eventually falls prey to assuring too much trust and confidence in others when they really shouldn't.
She needed to become invisible to these ponies. To just be another member of Ponyville. Crackle Cosette, the casual photographer, no different from Mayor Mare, Nurse Redheart or all the others.
Just a splotch of colour from afar. Nopony to pay attention to, or to distrust. Just one of many to cheer the heroes on from the background.
---
Written for Bean's Writing Group under the prompt of 'Chrysalis secretly lives as a pony in Equestria' and 'Entire fic as an inner monologue' as a bonus prompt.
Check the group out, and ask the admins for a Discord invite if you're interested in writing some awesome prompts, as well!
Chapters (1)