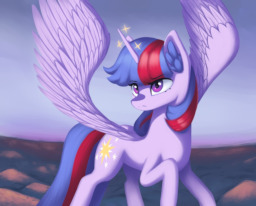 Source
This story is a sequel to A New Equestria
---
Months have passed since I first saw the Light. Back when the Empress shared her wisdom with me and enlightened me about the true path towards Harmony.
These months have been interesting for me. As a student of Empress Daybreaker, I was given the opportunity to gain much previously locked away knowledge. In addition, my new position as the 'Grand Inquisitor' bestows upon me the task of securing Harmony within Equestria and ensuring our ponies are safe.
And still, another mission awaits me, yet. A task what will lead me up North towards a familiar face. There is much at stake, too much for me to bear, I feel.
I just hope this goes right...
---
This Story takes place in the Equestria at War universe.
This is a sequel to A New Equestria. Reading it beforehand is recommended but not ultimately necessary.
Chapters (3)