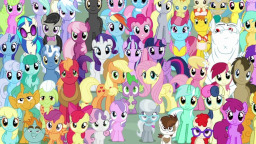 Source
Harry Potter was no stranger to problems, although his always seemed to be far larger than other young wizards his age. After all, Voldemort had tried to kill him as a baby, and twice during his first two years at Hogwarts. Hopefully, his third year in school would be easier, although he first needed to survive his summer with his aunt and uncle.
Between a hectic schedule of daytime chores and nights spent trying frantically to keep up on an ever-increasing pile of holiday work, he was working himself into a frazzle, and that was before finding out that his Aunt Marge was coming to visit. To top it off, an accident has just left him with a tiny purple problem he had never expected: a toy-sized unicorn named Twilight Sparkle.
His problems have just begun. And they will continue to multiply.
Editors: Tek
Picture credit: Wiki
Chapters (8)