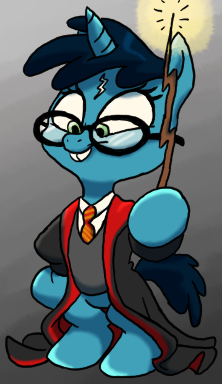 Harry Potter had the (mis?)fortune to fall through a portal to the Everfree near Ponyville. He was transformed into a unicorn, to his surprise. After being found, Twilight Sparkle took him in as an orphan, and to learn more about him as he learned more about Equestria. His adventures there are another story. This story is about what happens when he is pulled back to the human world by the Goblet of Fire when he is fourteen.
Finding himself back in the human world is bad enough, but also to discover he has an unbreakable magical contract to compete in a Tournament that is known for the deaths of the competitors is just icing on the cake. What else can go wrong?
(Not a continuation of "If Wishes Were Ponies . . .")
Scheduled posts on Monday and Thursday (UTC-4)
Edited by gerandakis. Picture by Quinn Kepner, from an image in the MLP comics.
Made the Featured List with Chapter 1! Hurray! And Popular Stories list on 9/14! A second Hurray!
And every 100 up votes gets an early release of the next chapter.
Chapters (29)