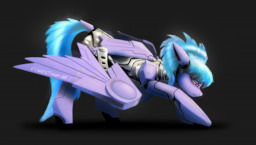 Source
Once there was a monster, whose flesh was made of steel,
A pony's magic bound her, and she was made to kneel,
She was the pony's servant, saw her sheltered, safe, and fed,
But when the monster left, it was the pony's heart that bled.
Takes place seven years before the events of Familiar.
Based heavily on the sage writing advice of Nice Hat. Preread by NikitaKitten.
Chapters (7)