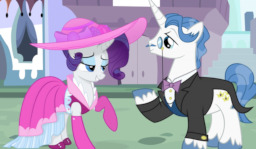 Success is often a bitter thing. When one has everything, then what worlds are left to conquer, after all? Rarity has expanded her business into every province of the Principality and is known in every city. She has everything that a much younger Rarity dreamed of, and yet absolutely nothing satisfies.
We must imagine Rarity happy, no matter how impossible it seems.
Forgot. Sorry. This was written for the Barcast's "Make Rarity Not Garbage" contest.
Chapters (1)