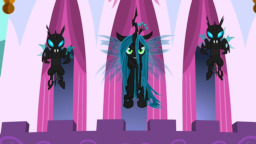 This story is a sequel to Post Nuptials
---
In the wake of her failed assault on Canterlot, Chrysalis is left stuck in the desert to brood on her failures. Angry and bitter, she reflects back on the events that led to her becoming the Changeling Queen.
Takes place in the same universe as Post Nuptials, though you don't have to read it first. I promise none of my other fics are going to be this dark.
Reading by Doctor Cobra!
Another reading by Plagen Shiki!
Chapters (1)