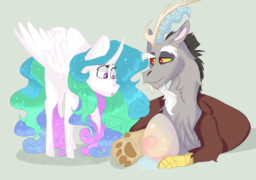 Source
Discord has a wonderful news for Celestia! In fact, it's news so wonderful that it might render her speechless... which is a good thing, right?
It's just one little surprise, and Discord's overjoyed... so shouldn't Celestia be too?
---
A very belated birthday gift for fluffysam, I hope it was worth waiting for! Contribute to the TVTropes page!
Chapters (1)