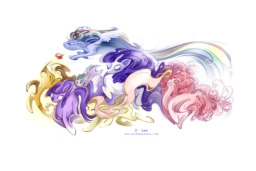 "From all of us together, together we're friends. With the marks of our destinies made one, the journey is without end!"
With those words, Twilight Sparkle accidentally teleported herself, Spike, the rest of her friends, and the elements of Harmony into another world. Trapped as they were for a thousand years, they made do; mingling with the natives, accepting their new-found longevity, and coping with the separation from their home world.
It's been a long ride, not without its bumps. But now, at last, the spell is winding down. The seven of them have gathered in their mansion to say farewell to their new friends and family. And even as the tears are shed and goodbyes made, some part of them is looking forward to returning to Equestria. It's true that everypony they knew is probably long dead (aside from the princesses,) but it's still their home.
There have probably been a number of changes, of course. But it can't be that bad... right?
Cover by fleebites.
Chapters (3)