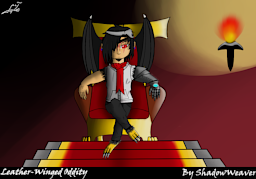 (OUT OF SERVICE. GO HOME, KID, THIS STORY'S A GONER.)
Nothing is as they seem. Equestria, a land that many would assume to be the most wonderful world to exist, is all a miraculous illusion. Its joyous environment and lovable equines are all an incredibly convincing lie. Beneath the folds of this world's false beauty is an environment so horrifying, that the most rudimentary of the truth would chill the blood and freeze the heart. Trust me. I would know... a freak like me has seen this world on the inside and out, and has witnessed the terrors it contains.
You think I'm mad... I can see it by the look in your eyes. You think my story is impossible, eh? Well, it's not your fault for thinking that. Who WOULDN'T be driven mad by the horrors I'd seen? But I assure you... all of it, every last word down to the last period, is true.
Now sit down, please... and I shall tell you a tale like none which you have ever heard.
---
Part of the magnificent world created by the legendary authors Rust and Blackwing. Told in first person, in present-tense.
Art by me.
Chapters (28)