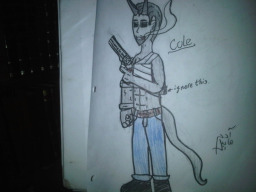 CURRENTLY ON REWRITE SEE BLOG FOR MORE!
CORRECTION: CURRENTLY ON REBOOT!
My nickname was Cole... but now I guess I'll just stick with that, names are pretty hard to come up with.
Have you thought a plan out in your head and decided to do it to see if it would work? Sometimes it does work, and most time it doesn't. My plan, let's just say it didn't work. And it ended with some deadly...
Screw it I'm gonna come out and say it. I got f--ked up. I'm laying on the ground at my bank with bullet holes riddled in me holding a revolver.
Well we all have Guardian Angels... and I don't like mine so far.
After making a wager and a couple requests, I get sent off to Equestria and literally drop from thousands of feet up into Canterlot.
Did I mention I got changed into a kind of demonic monkey?
My name is Cole, and in the words of a great hero in a fictional Fable
$h1t...
Based on Rust's Universe with some cameo crossovers (Done with permission)
Image was found with Google search
Chapters (6)