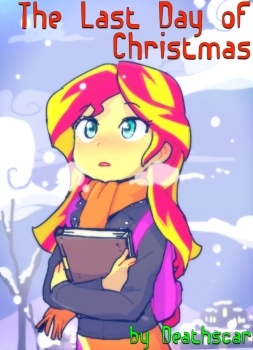 Source
The last day of school has all but come and gone. Rainbow and the others have left to prepare the holidays with their families, leaving Sunset all by herself. Ready to spend another Christmas alone, Sunset exits CHS only to be greeted by a familiar face. Someone that comes bearing a gift Sunset never thought she'd receive.
In fact, it might just be the most important gift of Sunset's life.
---
This story was featured on the front page of FiMFiction on the 25th of December, rising to 1st on the feature box on the 26th of December.
---
Cover art is done by baekgup
Cover edit (adding the words and editing so it look like a story cover) gifted to me on Christmas by Novel Idea
Edit (26/12/2016): In my haste to get this ready by Christmas, I neglected to mention that Warming A Hearth in Another World by Flutterpriest was one of the inspirations behind this tale. I always try to give credits where they're due but this one slipped through the cracks, sorry!
Chapters (1)