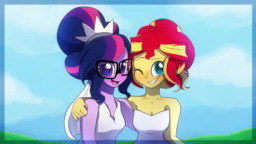 Source
For years, Sunset has dreamed of this day. And after months of preparation and sleepless nights, it was all about to come true. Today is the most important day of her life.
Today is the day she marries Twilight Sparkle.
---
Written as a present for the mod of Sciset Daily, an adorable little blog you should definitely check out.
Chapters (1)