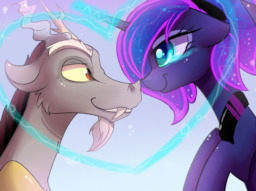 Upon being banished to the moon, Nightmare Moon found that she was able to communicate with Discord, also sealed away as a statue.
The two despise one another, but compared to an endless monotony, even two hated foes would rather talk with one another. Over time, Discord and Nightmare Moon begin to fall in love, right up until tragedy strikes.
Day 5 of my Self-Imposed 31 Fics in 31 Days Challenge. Also written for Monthly Shipfics.
Art by LunacordLover, used with permission.
Chapters (1)