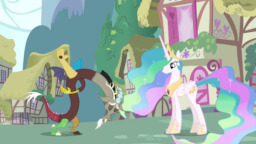 Featured!

---
Note: Story takes place between seasons 4 and 5 (and was drafted prior to knowledge of "Make New Friends but Keep Discord".)
---
Discord's miffed that Princess Celestia doesn't seem to have extended him a ticket to the Gala—he thought they were friends! (Though maybe he understands a little, considering his recent betrayal, even if he did make things right in the end). However, when she shows up to not only give him his ticket in person but to ask him to be her personal escort for the evening, Discord is surprised (and then smugly satisfied) to say the least…that is until Rarity decides that Celestia's invitation was clearly her asking Discord out on a date.
Discord dismisses the idea however as he has plenty of other things on his mind at the moment—ponies at the Gala will certainly be talking about Tirek, and how can he face their questions when guilt about what he did is bothering him so much that he can't even talk about his mistake with his friends? And what is he supposed to do now with his life since he's finally fully reformed?
Pretty soon Discord's worries spill over into his dreams—many random dreams…and many random dreams specifically about Celestia. What is his subconscious trying to tell him? And why does Celestia keep trying to get closer to him? It's all leading up to the most chaotic night ever when Discord will show up at the Gala arm in arm with Celestia and ready to face the world as the 'REFORMED reformed' Discord!
---
(Featured fall 2015, and spring & summer 2016

)
Chapters (30)