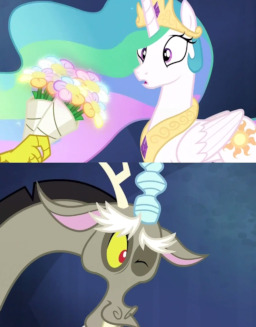 This story is a sequel to The Most Chaotic Night Ever!!!
---
Their first Grand Galloping Gala together was certainly an enlightening experience for Celestia and Discord. The pair began to understand each other, realized how much they liked being friends, and even weathered difficulty of Discord's (unrequited) confession of love. In the years that followed, the sun princess and the chaos master continued to develop their deep friendship. These days Discord even teaches chaos classes at Celestia's School for Gifted Unicorns, and Celestia's no stranger to his chaos dimension. And the two still date potential romantic partners (Celestia discreetly, Discord openly and always teasingly mentioning his lady friends to the princess). Everything's going so well between these two dear friends...
...So why can Celestia barely sleep ever since Discord left a few months ago to go traveling for summer vacation?
But perhaps the sun princess knows the answer to that question and is finally ready to admit it to herself and to Discord. And perhaps it's time for their relationship to change once more.
A most chaotic courtship is ready to commence.
---
(Set a few years after season four, roughly at the end of the series.)
Featured as of June 2017--yay!

---
Next (and final) sequel: The Most Chaotic Life Ever!!!
Chapters (9)