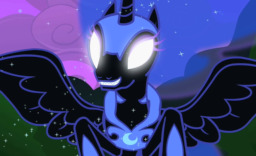 This story is a sequel to Donut Nights 2: A Heartfelt Hearthswarming
---
Over ten months ago, Luna and Donut Joe confessed their feelings to each other on Hearthswarming Eve and embarked upon a beautiful courtship. Now it's Nightmare Night, and Luna and Joe are one of the most admired couples in all of Equestria. Indeed, their emotions have blossomed completely from a simple crush all the way to...a confession each of them is prepared to make tonight. Still though, they worry about where the future will lead and if they will be able to manage all of the challenges it can hold.
Fortunately, Joe and Luna's relationship-building skills are always fresh thanks to the amount of effort they have to put in on Discord and Celestia who are still just friends despite how ridiculously close they've gotten (

). Clearly they need some advice from a seasoned couple (and perhaps Celestia and Discord can help teach Luna and Joe something along the way).
It's an evening of absolute relationship madness, so come one, come all, to the First Annual Nightmare Night Ball!

______________________________________________________________
Chapters (4)