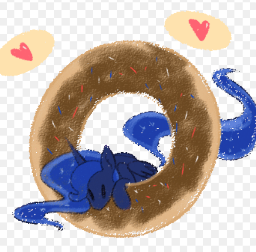 This story is a sequel to Donut Nights 3: Nightmare Night Canoodling
---
Hearts and Hooves Day.

The first holiday Donut Joe and Princess Luna ever spent together--and a day when they first began to connect as more than friends. It's a special day for the happy couple, especially now that they're in love and have a steady relationship. They're even prepared to 'have the celebration be doubled' by using their time travel spell to relive this particular Hearts and Hooves Day a second time since Luna always loses most of the holiday to her nightly princess duties. However, even the closest of couples can still have problems, and when Luna faces a new dream of Joe's, the pair must put aside their celebrating to face their plans for the future once and for all.
Meanwhile, Discord invites Celestia to dinner in the clouds for a holiday celebration that goes from confusing to sweet to panic-inducing until finally a chase erupts that leads the chaos master and the sun princess to an adorably awkward conversation about their own love life.
The finale of the "Donut Nights" saga.
Chapters (2)