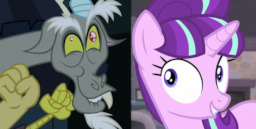 "We're the same! Get it? The same!"
Twilight Sparkle is really getting into the habit of reforming the villains she goes up against rather than just defeating them. This tactic isn't necessarily a bad thing of course: in fact, it's kind of great! But eventually one would think that all of these former bad guys would want to start getting to know each other a little better--or at least that's what Discord thinks should happen. So one day just after the time-travelling escapade, as Starlight walks through Ponyville with Twilight, she suddenly finds herself teleported away to a big surprise courtesy of the chaos master. And she's not the only one...
Prepare for cameos and shenanigans!

---
And now with a sequel! We're The Same Too!: Rise of the Cameos!
Chapters (1)