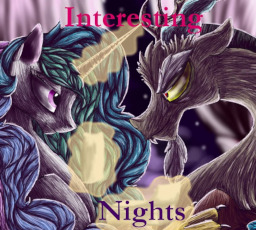 "We've had some interesting nights..."
~John de Lancie, Bronycon 2015, in response to someone asking him to comment on Celestia and Discord's relationship.
---
Celestia and Discord--tense acquaintances, close friends, or something more? It seems like they must spend some time together off screen to have developed any relationship at all. But of course Celestia only has nights free, and Discord, no matter when he hangs out with somepony, always has to make things interesting with his chaotic ways. And so we end up with some 'interesting nights' for the sun princess and the master of chaos...all alone...in Celestia's room...frequently.
Just what could they be doing in there?

(Yes, John de Lancie said a sentence, and I wrote a ten thousand word story about it. I knew something like this would happen if I went to his two panels at Bronycon, but I did it anyway, and I have no regrets!

)
Beautiful cover art by Silvy-Fret: Silvy-Fret's Deviant Art page
Beautiful art at the end of the story by Nekoi-Echizen: Nekoi-Echizen's Deviant Art Page
Chapters (1)