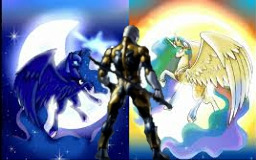 This story is a sequel to Livin' The Dream.
---
[there might be no mane 6 in this story by the way]
Who am I? or... what am I? am I even human anymore?
Have you ever wondered what defines a soul? well I hope you find the answer, i really do, and when you do, let me know, because I'm still searching for my soul...
Well, I've died thrice now, and it's not that enjoyable, I either expected eternal damnation or ascension, but no, I was given another chance, by... well we'll cross that bridge when we come to it, you'll know who he is VERY soon, no worries.
I have been given a third chance at life now, but where am I? what time is it? who am I? why am I asking you these things? just read the story.
(And to warn you my char is kind of a Mary Sue but he will still get his ass kicked and many other things which show that no matter how badass you are, things can go horribly wrong, so don't dislike because of that fact because I warned you.)
Chapters (13)