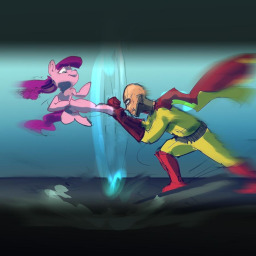 Source
One day, Saitama wakes up bored, only to find a portal in his room. Being Saitama, he doesn't investigate it with scientific curiosity: he walks straight through it. On the other side, he meets an odd young female pony who is somehow as strong as he is. Surely the two will come to chat cordially with one another?
Of course they get into a fight.
Cover art by alumx used with permission
Very likely falls within E-rating. T-rating is just to be on the very safe side for a couple of darker lines.
Day 21 of my Self-Imposed 28 Fics in 28 Days Challenge
Chapters (1)