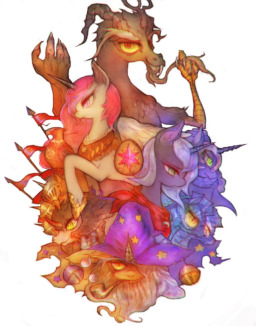 Source
A collection of chapters now have readings by the generous Lotus Moon! Please be sure to check it out!
---
Little bits of world building, style experiments, character pieces, and all sorts of under 1,000 words such dumped in this anthology. I might turn them into larger stories at some point, but not really. No spoilers unless noted otherwise. May also include deleted scenes and discarded first draft snippets as well as one shots that can't stand on their own (but lack proper sequels/prequels) and cancelled stories (if I have any, they'll be moved here)*.
Character tags represent the most recurring characters, however in this case the 'Other' tag merely reflects other canon characters. Each bit takes place in the Iceverse, so your mileage may vary.
---
Oh, and a warning that this may also contain any of the following (which will of course be noted in the author filibuster box):
Poetry
Extensive rambling
Lore!
Really short stories
Dialogue-only drabble
Experimental poetry
Potentially unexplained happenings
Shipping
Seriously, lots of rambling from yours truly
Prompts
Since this is an AU anthology expect plenty of headcanon and utter (possibly) nonsense on my part
Anything else my mind may come up with (the tags will/might start to reflect this as time goes on) There's an anthology tag for that now, because knighty finally did a good thing! Wow!
At this point let's leave it at "(Your Ad Here) have mercy on your soul."
---
Although this is marked as complete, it technically isn't. I just keep it like that for organization's sake. Updates whenever I have writing scraps. If you're looking for missing Luna/Sombra chapters, please check out this story here.
---
*As will notes about the plot and what would have happened if I continued. This only applies to published stories that ended up cancelled, not discarded drafts. Whether or not the contents of the story is still canon will be noted in the A/N as well as the lack of a [Scrapped] tag.
---
Chapters (59)