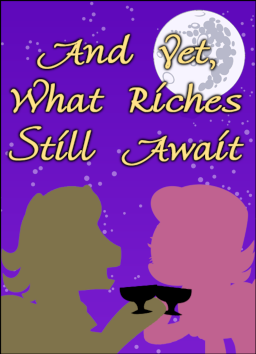 Spoiled Rotten knows her best years are behind her. The time of flowers, whirlwind romances, and the luxury of rejecting suitors has passed. Now is the time for husbands and cradles, and she still has neither. With the clock ticking and a string of failed relationships trailing behind her, she fears it will stay that way.
So when one of the rare earth pony elite appears at a Canterlot party, despondent, alone, and (possibly) single, it's an opportunity too good to pass up. And it's been so long since Spoiled's met a stallion she genuinely likes.
History says it won't last. Common sense warns it won't work. It's a one-in-a-million chance, and luck's never been on her side before. But Spoiled has to try. She can't afford not to.
---
(In continuity with The Silver Standard, though reading is not required.)
Chapters (1)