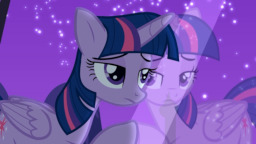 Twilight Sparkle is the master of her own mind. She is the Princess of Friendship. She is the fourth piece of the Alicorn Tetrarchy. She has incredible power, and she has always asserted it in a necessary and compassionate way. She has a charmed life—a wonderful set of friends, a beautiful castle in a lovely little town, and is constantly busy with her life, stretching her wings upward and outward to new horizons as often as possible.
There can be nothing wrong with her.
---
Pre-read by Majin Syeekoh.
Chapters (1)