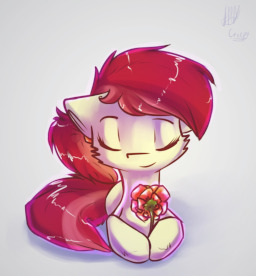 Source
Roseluck's job as a flower pony sometimes requires her to head off and arrange flowers for certain venues: weddings, parties, and funerals. Out of the three, funerals appeal to her best; they're quiet, ponies leave her to her business, and they pay well.
Called to arrange flowers for a Canterlot funeral, Roseluck gladly accepts. After all, it's just going to be another funeral, right?
---
Editing by Rated Ponystar. If you like my work, consider donating to my Ko-Fi.
Chapters (1)