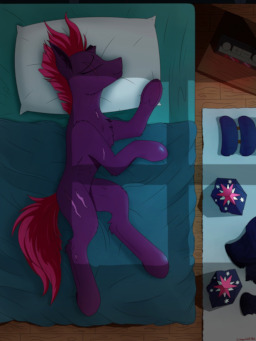 This story is a sequel to Scars
---
*Note, the suicide/self harm tag is only there just to be safe. I can't say any more without spoiling a huge part of the story.
*Note #2, This story is prewritten and will be uploaded bi-weekly.
After returning to Twilight's castle, Tempest is eager to find her place among ponykind. However, most ponies still only see her as the villainous commander of the Storm King. Despite Twilight's best efforts, Tempest just doesn't feel like she belongs with the rest of Equestria.
Takes place the day after Scars. If you haven't read that story, I implore you to please read it first. A lot of what happens in the first couple chapters of this story are going to reflect on that story, and you won't really understand what's going on too well or why Tempest's mindset is the way that it is throughout this story unless you read that story first.
Edited by my buddy AJ, as always.
Chapters (12)