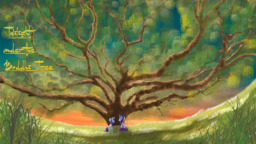 Sometimes life isn't a perfect story. Sometimes it's just one damn thing after another, right up until it ends.
As her mother lies dead in a still-living body, Twilight Glitter is going to have to come to terms with life—with death, with being, and with not.
---
CW: depictions of self-harm, and mental decay akin to schizophrenia/dementia
Originally written in 2017 (pre-s8) for the Writeoff. Completed slowly and painfully over the past three years. The prompt was Here at the End of all Things.
Thank you to r5h, garatheauthor, Mousse, and Cynewulf for pre-reading and editing.
Coverart by the amazingly talented Zaid Val'Roa.
Chapters (1)