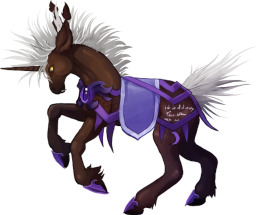 This story is a sequel to Putting on a Silver Robe and Wizard Hat
---
The former human known as Silver has attempted to throw his life away, but neither Luna nor his wife, Night Watch will tolerate this. He claims it was an impulse, but they will cure him of the deep breaks even if it means reassembling him from parts.
His life in Equestria has been full of ups and downs. He has two foals on the way, but has lost as many wives, and many more friends have moved on or away. He has been beaten, burned, and generally abused, sometimes at no fault of his own, and sometimes entirely at his discretion.
Savior of Canterlot, yet feared by many of its people, will Silver Lining find true happiness in this magic world of equines? Stripped of his diplomat status and declared a ward of Luna until such time as she proclaims him cured, he has little choice but the trust in her love, and hope it can fix the breaks within him, without destroying who he is.
Part of the Silver Verse.
Chapters (122)