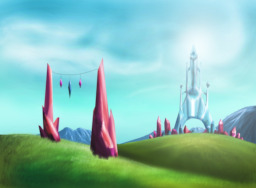 This story is a sequel to The Needs Of The Many
---
Having recently been married, me and my newly wedded wife travel to Equestria where we're both welcomed warmly. But it's not all rainbows and butterflies with my return as my pony friends' souls start separating from their bodies not long after our arrival. With their souls housed in my mind and the other princesses attending to business in The Crystal Empire, I set off on the long trek north to get help from them with fixing this dilemma. But an ancient and familiar evil threatens to corrupt me during my journey. Will I make it in time or succumb to the darkness, dooming my friends in the process?
Sex tag for some romance, innuendo, and suggestive situations. Gore tag for some blood.
Part II in the "Guardian Of Equestria" saga.
Note: As a sequel, there'll be several elements from The Needs Of The Many that pop up in Host Of Souls. It's vital that you read the former first. Also potential spoilers in the comments section.
Cover art by Turbo Solid: http://turbosolid.deviantart.com/art/The-Crystal-Empire-Spoilers-333095607
Chapters (9)