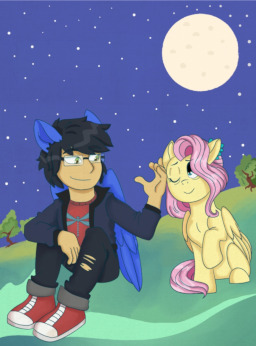 This story is a sequel to Cruel Twist Of Fate or (Friendship Is Tragic)
---
Ever since that fateful night half a decade ago, my life has been in a downward spiral. Friendships non-existent. Isolation constant. And yet, when I was least expecting it, I was brought back to the friends from my past. As I attempt to rebuild the bridges I burned long ago and even adjust to a land that has changed considerably since my last visit, I find that maybe forgiveness isn't all I'm seeking. Maybe something a little bit more than just friendship might be in my future. And maybe a certain kind-hearted mare could be the one to lead me towards something I haven't experienced in a long while nor ever thought I'd experience again: true love and happiness.
Sex tag for some romance, innuendo, and suggestive situations.
Part IV in the "Guardian Of Equestria" saga.
Note: As a sequel, there'll be several elements from the first three stories that might pop up here. It's vital that you read them first. Also potential spoilers in the comments section.
Awesome cover art by Pigeonsmall: https://www.fimfiction.net/user/64977/Pigeonsmall
Chapters (10)