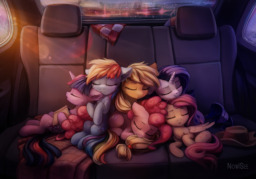 Source
Two Pegasisters, named Eleanor and Samantha, go to a BronyCon event close to their hometown. There, the CEO of Hasbro reveals a contraption that allows dimensional travel. So Pegasisters and Bronies alike can meet the Mane 6 and ask one question each.
However, something goes wrong with the contraption and the Mane 6 cannot go home until it's fixed. Now, it's up to Eleanor and Samantha to volunteer and take the Mane 6 into their home and keep them calm until the contraption is fixed and they can finally go home.
How will Eleanor, Samantha and the Mane 6 handle with this new turn of events?
---
Cover Art by INowISeeI.
Pony Design belongs to EarthSong9405.
This takes place before Twilight Sparkle became an Alicorn.
My Little Pony: Friendship is Magic belongs to Hasbro, Lauren Faust and DHX Studios.
Hope you enjoy it.
Chapters (2)