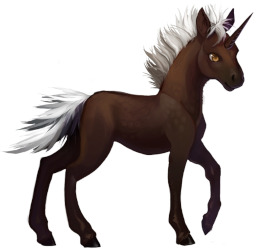 This story is a sequel to Clueless in Equestria
---
He was once a human, and still remains so in his much smaller head. After making use of Luna's sizable magical talent, he has rewound from a middle-aged human to a unicorn colt just old enough to start learning how to use their horn.
Of course, it wouldn't do to have an orphaned foal, and Luna is far too busy with royal duties to take upon this strange unicorn, so she allows him to pick a guardian. He chooses his pony self, Rough Draft, who was once his original character before his arrival, and proved to be a real pony, with his own aspirations and quirks.
Rough Draft and Trixie, who had the (mis)fortune of being present during all of this, are now acting as David's parents as he learns everything there is to know about being a unicorn.
Want to support the author? Check out his Patreon.
Chapters (32)