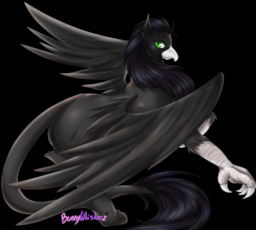 Source
( yep this entire slop is getting a re write of a few earlier chapters )
Hello. My name is Anninnicus. Anninnicus Ravenfury... It's a name I came up with on my own, truthfully... My real name is... Chirp.. And that name was given to me by, well... everypony.
It started with my adoptive mother, Lovely Lights. And I suppose my name change never went through, and I also suppose I'm far too lazy to do it again.
It's totally contradictory thinking, yes, bad name, want to change it... and too lazy to change it. That's just how I function. I'm perfectly fine with it, even if I have to cringe every time someone tries to use "Chirp" to refer to me.
I can expect you all are here to hear all the stories of the War, and my... 'excursions' following it's end.
However, I'd rather talk about the most joyful years of my life, as it was only after the war ended that I became even remotely relevant in this world.
I'd much rather talk about my life... before the war...
If you really want to hear stories of the war, I'd recommend you to... well.... I don't know if she'd want to talk about it either. I'll send you her way afterwards, if you stick around long enough.
(Random and comedy tags for.... just trust me on it.
Alternate universe tag will come up much later, but it's due to the fact I've merged it with another series I'm planning on making.... At some point.
As it stands, I'm not using the official Mlp map, so that's the tag at work for now.
Chapters (17)