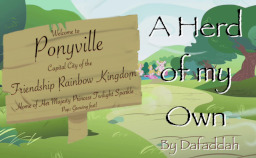 Twilight was doing the best she could to become a princess of which everypony could be proud. With only a few teensy little bouts of self-doubt, she was hitting the books like a pro, learning the ropes from the elder princesses, and easing into the job at a cautious, steady pace. Steady, that is, until a certain power-obsessed centaur threw all of her timetables and checklists into the air – along with most of her house.
So with T-wreck now back in the slammer, all she and Spike have to do is get used to living in a new house castle as well as cope with changed circumstances, responsibilities and expectations. Easy-peasy, right?
The events of this story happen in parallel to and intersect with events in Outland, although each story can be read independently.
Chapters (6)