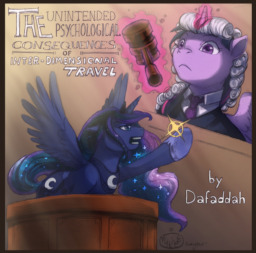 In the Casino Dimension, Luna helped Daybreaker get exactly what she'd always wanted. Turns out it just wasn't what she needed. Being long on questions and somewhat short on friends, she figured she would visit Luna in Equestria and find some answers. Too bad she landed in a department store, got into a fight with security, and ended up in jail. Yeah. Coming to Equestria was a great idea!
An entry in the Season 10 Bingo Writing Contest. Cards: Daybreaker, Nurse Redheart, Smolder, Trottingham, Court of Law. Edited by Totallynotabrony and Pascoite.
Amazing artwork by Mythee and FallingMist.
Chapters (6)