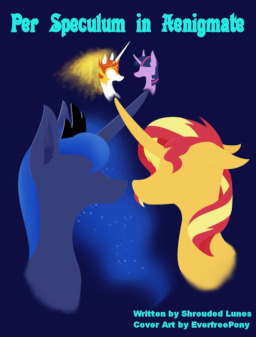 Sunset Shimmer has a foolproof plan. She's going to go through the portal for more than just a peak for the first time in years in order to obtain some magic artifact that will cement her role as overseer of the student populace of Canterlot High School. Then, she'll march these... carnivorous pony imitations through the portal and conquer Celestia's realm. Maybe then, she will finally get the wings she deserves from her old mentor.
The only problem is, it's not Celestia's realm...
---
A special thanks to EverfreePony for the gorgeous cover art.
---
Oh sweet Luna. Thank you guys. Really, thanks everypony!
First Feature Box Appearance: 1/17/19
Broke 50 Likes: 1/26/19
Broke 500 Views: 1/27/19
Broke 1k Views: 4/26/19
Chapters (11)