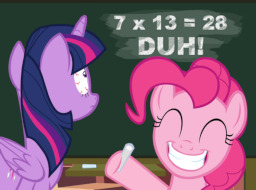 As Twilight sets up for tonight's sleepover, Pinkie brought over exactly twenty-eight cookies for everypony at the sleepover. Pinkie claimed that the seven of them (including Spike) should have thirteen cookies each as an even amount. Pinkie's logic doesn't make any sense to Twilight and wants Pinkie to prove it to her if seven times thirteen really does equal to twenty-eight.
Inspired by Abbott and Costello's 7 x 13 = 28 routine!
Pinkie Pie Grin vector by: KIOWA213
---
Edit: I know that 7x13 does not equal to 28! This is all in good fun comedy and it doesn't have to be taken so seriously. If you are sensitive with mathematics, then don't read it!
---
Update 11/16 - 11/20/14: In the popular list! Thanks guys!
---
Update 6/6/15: Now with a reading by: Astro-Brony
Chapters (1)