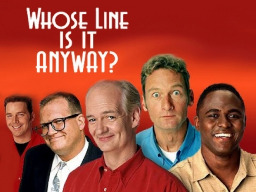 Source
Hello everybody and welcome to "Whose Line is it Anyway?: My Little Pony edition"! Here we have the day the earth ponies stood still, Solid State! The thestral who flew off with my wallet, Star Tooth! Hey it's the guy who returned my wallet, Dull Edge! And the one who broke his back from his namesake, Blunt Force!
I am your host, Drew Carey, let's have as much fun as we can watching these technicolour donkeys make complete asses of themselves!
Yes, Whose Line is it Anyway? The show where everything is made up and the points don't matter.
---
I'm going to try to alternate between scene-based games (Improbable mission, sound effects, narrate, etc.) and the other wacky fun ones (scenes from a hat, party quirks, hoedown, etc.) to give this fic different stories to tell. So long as this fic can tell a story or four, I should be able to keep the moderators happy... right?
Warning: Crude humour and sexual themes. But you probably knew that already.
I have since recently dedicated this fanfic to Europa. You may be able to find out why.
Chapters (42)