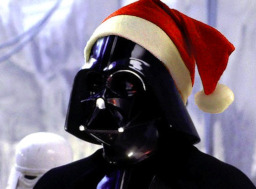 'Twas the midmost of winter and into the town was a place where laughter, and cheer could be found. Ponies roamed through the streets with smiles on their faces, seeing bakeries, toy stores and other neat places.
But this is the part where the story gets weird, for this year's Hearth's Warming turns out worse than they feared. When Ponyville is introduced to its newest invader, a man dressed in black whose name is Darth Vader.
Written for the Hearth's Warming Eve Hearth's Warming Contest! (2nd Place :D)
Epic Pancake Productions reading
FanFics Anonymous reading (Mature)
featured on 12/20/14!
Chapters (1)