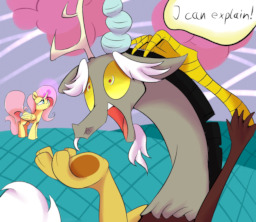 Discord has a problem. He has a tendency to not think through his actions all that well, poor impulse control, and no ability to figure out how others will feel about what he does. Even with a friend helping him, sooner or later he's going to do something that'll get him stoned or hit with a reforming spell or whatnot. So what's he to do? Ask the smartest pony in Equestria for a solution, of course!
He probably wasn't expecting to get "Have Celestia let you rule Equestria again" for a response.
No one else was probably expecting to enjoy it.
Now with a reading by Crafty Arts!
And a Spanish translation!
Chapters (1)