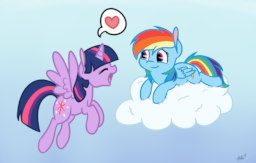 Source
*EDIT* - this story will now be marked INCOMPLETE, so that I might use it as a poetry collective. Could be worth checking in from time to time. Seperate chapters are unrelated unless otherwise stated and will be tagged in pre-viewing A/N
In a fantastical universe the bastard love-child of Edgar Allen Poe and T.S. Elliot got hooked on ponies.
The resulting poem, pulled through the void, is presented for your reading pleasure.
A (loosely) iambic tetrametric narrative of Twilight Sparkle struggling to understand, accept, and ultimately express, her love for Rainbow Dash.
*EDIT* - Now with other stuff, too.
Chapters (3)