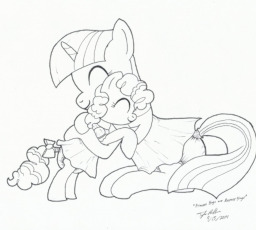 Source
For many, "Lesson Zero" was the episode where FiM metaphorically "grew the beard", since it established that Twilight's duty to send reports weekly ended.
However, the events could have taken a different direction entirely.
For the example, what if the Mane 5 did the sane thing at the wrong moment? What if Celestia wasn't so merciful towards Twilight? And to make things worse, Celestia got a sadistic sense of humor and an idea for an untraditional punishment?
How will Twilight act during her stay in one of her biggest fears and a total opposite of her usual orderly life?
Find out in this story!
Alright, for the first two chapters the story is for everyone. Starting with the third chapter, however, the rating is "Teem", because of some... Aristophanes-ish humor and some shards of fetish. You have been warned.
---
Credits: Corwin Freiss for editing
Autumn Breeze for co-Writing (post- Catonian Party Revolt.)
Cover art by TheMillenniumFalsehood
Chapters (43)